GO TO PORTFOLIO
Painting is a process that makes "the connection between yourself and everything … you connect yourself to everything which includes yourself."
— Fairfield Porter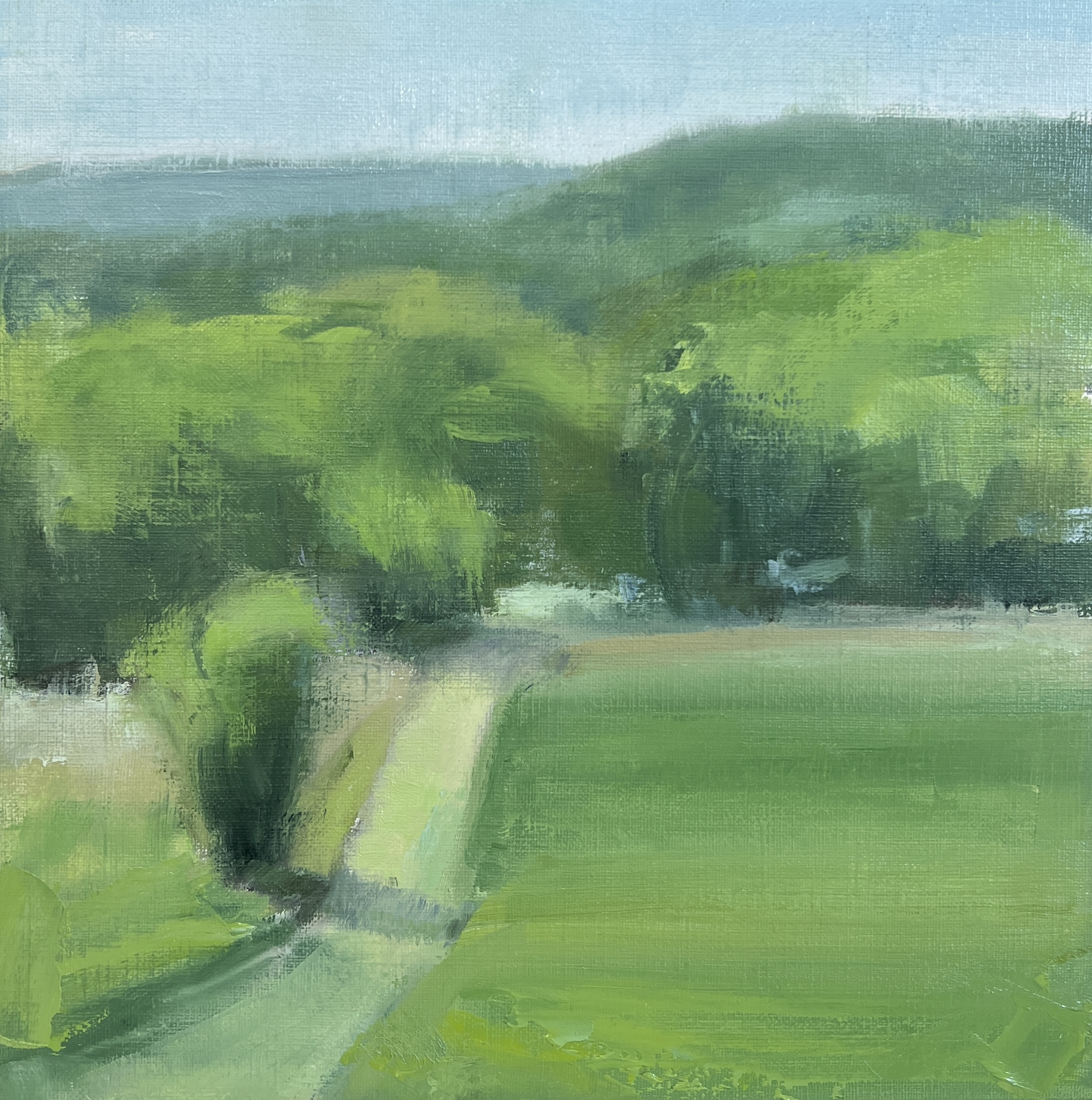 Valley Forge, 9 x 9 oil on board (2022)
Statement
I've been fortunate to study painting mostly with other painters who generously teach, and I approach this long and fascinating road of learning with as much patience and good humor as possible. More importantly, painting has become my way of shifting from my ordinary mindset to a more inspired one. By seeking awe through the practice of painting, I am able to feel connected to something more expansive and thrilling than what might be perceived at first glance. 
The painting motifs and processes I'm drawn to result in the representation of some aspect of reality. But I'm less interested in an accurate description of that reality and more interested in a sincere expression of it. And then how, when this experiment sometimes works, this simple surface covered with marks and shapes of value and color becomes vibrant with its own attractive drama or logic or DNA. This creative aspect of making a painting is pure magic to me.
Biography
I'm the proud mom of two daughters, grandma to the sweetest baby boy, and a semi-retired communications executive. I live in the suburbs of Philadelphia in the beautiful Brandywine Valley.
My experience with studio painting began as a humanities major at Penn State University. Right after college in the early 90s, I served as a founding director for the Lancaster, PA-based nonprofit group New Art Voices, which provided alternative venues and multi-media exhibitions for regional artists.
Between then and now I've had the joy of navigating a career in public relations, while painting only occasionally but always feeling the draw of needing to paint. So in recent years I've established a committed practice — one further fueled by the isolation required during the COVID-19 pandemic. A number of art centers and studios, along with their incredible teams of painters, have become invaluable resources for me. These schools include Winslow Art Center, Washington Studio School, Wayne Art Center, and Penn Studio School of Art. 
Education
Independent Study / 2018-present
Bachelor of Interdisciplinary Humanities, Penn State University / 1987
Associate of Science, Elizabethtown College / 1984
Exhibitions
Group 
Chester County Art Association Members Show / West Chester, PA / 2022
Oxford Arts Alliance 8th Annual National Juried Exhibition / Oxford, PA / 2022
Oxford Arts Alliance Plein Air in the Parks Exhibition / Oxford, PA / 2022
Wayne Art Center Members Juried Exhibition / Wayne, PA / 2021
Chester County Art Association Members Show / West Chester, PA / 2021
Wayne Art Center Expressions of Radnor / Wayne, PA / 2017
Lancaster Museum of Art Open Award Show (Honorable Mention) /  Lancaster, PA / 1995
The Brewery Gallery at Bube's Brewery Two-Person Exhibit with Kassie Schelling / Mount Joy, PA / 1995
Lancaster Museum of Art Open Award Show / Lancaster, PA / 1994
Millersville University New Art Voices Invitational / Millersville, PA / 1993
New Art Voices Tobacco Warehouse Exhibition / Lancaster, PA / 1993
Solo 
Penn State Harrisburg / Harrisburg, PA / 1994
Harrisburg Area Community College / Lancaster, PA / 1993
Affiliations
Chester County Art Association
Historic Yellow Springs Chester Springs Studio